St Louis Art Museum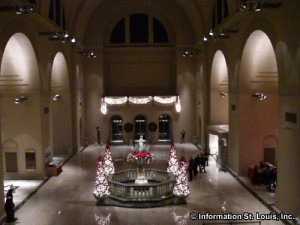 The St. Louis Art Museum, a St Louis Landmark, is located in Forest Park in the 1904 World's Fair building known as the Palace of the Fine Arts. It was the only major building of the fair that was built as a permanent structure and became St. Louis' Art museum in 1906. Presently, the museum holds over 30,000 pieces of art from almost every time period and culture. Egyptian mummies, delicate Chinese pottery, suits of armor, French and English furniture and much more all add to the extensive variety of the collections at the St. Louis Art Museum. It is considered to be one of the nation's leading comprehensive art museum. For a great ending to a wonderful outing at the St. Louis Art Museum, have lunch or dinner at the museum's restaurant.
Visit the St. Louis Art Museum
The St. Louis Art Museum is open Tuesday through Sunday, 10am-5pm; Friday, 10am-9pm. They are closed Mondays and on these holidays, Thanksgiving and Christmas Day, but are open on New Year's Day. Admission to the Museum is free. Admission is charged for the special exhibits that change throughout the year, but these exhibits are FREE every Friday!
St. Louis Art Museum
1 Fine Arts Dr
St Louis, MO 63110
314-721-0072